Homemade Ice Cream
I scream, you scream, we all scream for ice cream.
That summertime jingle has probably been around since not long after Thomas Jefferson made ice cream a popular American treat.
Ice cream has been around for centuries. Ice cream evolved from chilled wines and other iced beverages, which were reputed to be favorite treats of Alexander the Great. Alexander the Great enjoyed snow and ice flavored with honey and nectar. Biblical references also show that King Solomon was fond of iced drinks during harvesting.
According to the ancient records, in 62 A.D., the Roman Emperor, Nero, sent fleets of slaves to the mountains of the Apennines to fetch snow and ice which were then flavored with nectar, fruit pulp and honey.
Iced dairy products were cited in ancient Chinese literature as early as the 12th century. In the 13th century, Marco Polo brought recipes for water ices to Europe from the Far East. When Catherine de Medici married Henry II and became Queen of France in 1533, she brought with her recipes for Italian sherbet. In England, "Cream Ice" appeared regularly at the table of Charles I during the 17 th century.
It was in 1660 that ice cream was finally available to the general public. The Sicilian Procopio introduced a recipe blending milk, cream, butter and eggs at Café Procope, the first café in Paris.
Frozen desserts found their way to America. The first official account of ice cream in the New World comes from a letter written in 1700 by a guest of Maryland Governor William Bladen.
The first advertisement for ice cream in this country appeared in the New York Gazette on May 12, 1777, when confectioner Philip Lenzi announced that ice cream was available "almost every day."
Records show that President George Washington spent approximately $200 for ice cream during the summer of 1790. Inventory records of Mount Vernon taken after Washington's death revealed "two pewter ice cream pots."
President Thomas Jefferson was said to have a favorite 18-step recipe for an ice cream delicacy that resembled a modern-day Baked Alaska.  Dolly Madison served magnificent strawberry ice cream creation as a dessert in the White House at the second inaugural ball in 1812.
The first hand cranked freezer was invented by Nancy Johnson and patented in 1843. Between 1848 and 1873, sixty-nine other patents were issued for hand cranked ice cream freezers. Modern electric ice cream freezers have reduced the hard work involved, the motor replacing those hours of hard hand cranking.
Thomas Jefferson's Ice Cream Recipe
The original recipe is handwritten in the Library of Congress. (These spellings are the way Thomas Jefferson wrote it)
2. bottles of good cream.
6. yolks of eggs.
1/2 pound sugar
Mix the yolks & sugar put the cream on a fire in a casserole, first putting in a stick of Vanilla. when near boiling take it off & pour it gently into the mixture of eggs & sugar. stir it well. put it on the fire again stirring it thoroughly with a spoon to prevent it's sticking to the casserole. when near boiling take it off and strain it thro' a towel. put it in the Sabottiere then set it in ice an hour before it is to be served. put into the ice a handful of salt. put salt on the coverlid of the Sabotiere & cover the whole with ice. leave it still half a quarter of an hour. then turn the Sabottiere in the ice 10 minutes open it to loosen with a spatula the ice from the inner sides of the Sabotiere. shut it & replace it in the ice open it from time to time to detach the ice from the sides when well taken (prise) stir it well with the Spatula. put it in moulds, justling it well down on the knee. then put the mould into the same bucket of ice. leave it there to the moment of serving it. to withdraw it, immerse the mould in warm water, turning it well till it will come out & turn it into a plate.
The Sabottiere is the inner canister.
Thomas Jefferson's guests quite often enjoyed a cool dish of delicious homemade ice cream.
From: American Treasures of the Library of Congress, Library of Congress. "Jefferson's Recipe for Vanilla Ice Cream." 1780's.
Cherry Cordial Ice Cream
Makes about 1 1/2 quarts
1 (14-ounce) can Eagle Brand Sweetened Condensed Milk  (NOT evaporated milk)
2 cups (1 pint) half-and-half
2 cups (1 pint) whipping cream, unwhipped
1 (10-ounce) jar maraschino cherries (without stems), well drained and chopped (about 1 cup)
3/4 cup semi-sweet mini chocolate chips
1 tablespoon vanilla extract
1/2 teaspoon almond extract
In ice cream freezer container, combine all ingredients; mix well.
Freeze according to manufacturer's instructions. Freeze leftovers.
Refrigerator-Freezer Method: Omit half-and-half. Whip whipping cream. In large bowl, combine sweetened condensed milk, 1/2 cup chopped maraschino cherries, 1/2 cup mini chocolate chips, 2 teaspoons vanilla and 1/4 teaspoon almond extract; mix well. Fold in whipped cream. Pour into 9 x 5-inch loaf pan or other 2-quart container. Cover. Freeze 6 hours or until firm. Freeze leftovers.
Courtesy of Eagle Brand Sweetened Condensed Milk and the National Sweet Cherry Foundation
Root Beer Ice
Low Fat   Low Calorie    Low Sodium
Makes 8 (1/2 cup) servings
1 cup sugar
4 cups water
1 teaspoon lemon juice
1 tablespoon McCormick Root Beer Concentrate
Combine sugar, water, and lemon juice in a saucepan. Bring to a boil.  Reduce heat and simmer 10 minutes. Stir in root beer concentrate.
Refrigerate 2-4 hours to chill.
Place in an ice cream maker and follow manufacturer's directions.
Courtesy of McCormick
Irresistible ice cream cake
1 bag SNICKERS Brand Miniatures
2 quarts vanilla ice cream
2 cups finely ground graham crackers (chocolate or honey)
6 tablespoons melted butter
1 9-inch springform pan
In a medium sized bowl, mix the finely ground graham crackers with the butter until well blended. Pat the mixture on the bottom and sides of a 9-inch springform pan. Freeze for 10-15 minutes.
Chop 12 SNICKERS Brand Miniatures into small chunks and set them aside to be used for topping.
Place the ice cream into a large mixing bowl and allow it to soften slightly.
In a food processor, coarsely grind 24 SNICKERS Brand Miniatures and add them to the softened ice cream. Mix thoroughly.
Scoop the ice cream mixture into the graham cracker crust and flatten the mixture with the back of a spoon.
Sprinkle the coarsely ground SNICKERS Brand Miniatures from step 2 on top.
Place a sheet of wax paper on top and press down slightly to set it into the ice cream.
Place the ice cream cake in the freezer and allow it to harden for at least 3-4 hours before serving.
Courtesy of SNICKERS Brand Miniatures
Granola "Fried" Ice Cream With Red Cinnamon Sauce
Fried Ice Cream
2 pints (4 cups) vanilla ice cream
1 cup butter or margarine
1 (8.9-ounce) box Nature Valley Cinnamon Crunchy Granola Bars (12 bars), crushed*
1 cup finely chopped pecans
Sauce
1/2 cup sugar
1/2 cup water
1/2 cup red hot cinnamon candies (4 1/2 ounce)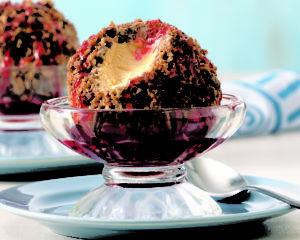 Line plate or tray with waxed paper. Scoop ice cream into 8  (1/2-cup) balls onto waxed paper-lined plate or tray; place in freezer until hard about 30 minutes.
Meanwhile, in 12-inch skillet, melt butter over medium heat. Add crushed granola bars and pecans; cook 3 to 5 minutes, stirring constantly, until deep golden brown and most of butter is absorbed (mixture will look foamy). Spread in 13×9-inch pan; cool completely, about 20 minutes.
Meanwhile, in 1-quart saucepan, heat all sauce ingredients over medium-high heat, just until mixture boils, stirring constantly. Reduce heat to medium-low; simmer 4 to 5 minutes or until candies melt, stirring frequently. Remove from heat. Pour sauce into glass measuring cup. Cool 10 minutes.
Working quickly, remove 1 ice cream ball at a time from freezer; roll ball in crumb mixture, pressing mixture into ball until completely covered. Return to freezer until ready to serve.
To serve, spoon 1 tablespoon cooled sauce onto each dessert plate. Place coated ice cream balls over sauce. Drizzle each with 1 tablespoon sauce, letting some run down sides (reheat sauce slightly if too thick to drizzle). Serve immediately.
8 servings
Courtesy of Pillsbury 41st Bake-Off Contest and Jan Perry of Norwood, North Carolina
Brownie ice cream sandwich
1 bag MILKY WAY Brand Miniatures, chopped
1 bag M&M'S Brand Milk Chocolate Candies
2 19.9-ounce boxes brownie mix
1/2 gallon package vanilla ice cream
2 10-inch round cake pans
Waxed paper
Prepare the cake pans by greasing them and lining the bottoms (not the sides) with waxed paper.
Prepare brownie mix according to the package directions. Fold the chopped MILKY WAY Brand Miniatures into the batter before transferring it to the prepared cake pans.
Bake according to the package directions. Remove and cool completely.
Run a small paring knife around the edges of each brownie, loosening it from the pan.
Invert one layer onto a cookie sheet, and spread vanilla ice cream on top, coming right to the edge (slightly soften the ice cream first).
Place the other brownie layer on top, and press gently to secure. Place in the freezer until firm, about 2 hours.
Just before serving, press M&M'S Brand Milk Chocolate Candies into the ice cream.
Cut into wedges and serve right away.
Courtesy of M&Ms Brands
Lemon Ice Cream
1 1/2 cups warm water
3/4 to 1 cup sugar (based on preference for sweet or tangy)
1 pint light cream or half and half
1/2 cup fresh lemon juice
grated zest of 1 lemon
1 teaspoon pure lemon extract
1 teaspoon pure vanilla extract
Preparation:
Mix water and sugar together and allow sugar to dissolve. Add the balance of ingredients. The mixture will thicken slightly from the acid/dairy reaction, but the ice cream will taste just fine.
Put ingredients in an ice cream maker and follow the manufacturers instructions. If freezing the mixture in trays in a household freezer, as soon as it is firm, run frozen mixture through a blender or food processor and either freeze again before serving, or serve it right away.
This ice cream is delicious served just after it has finished cranking. Serve it with fresh berries in season.
Rolling Ice Cream
1 empty 39 oz. coffee can with tight fitting lid
1 empty 12 oz. coffee can with tight fitting lid
Duct tape (optional)
Crushed Ice
Rock Salt
1 cup milk
1 cup heavy whipping cream
1/2 cup granulated sugar
1/2 teaspoon vanilla extract
1 pinch salt
4 crushed NESTLÉ Fun Size Candy Bars
1/4 cup nuts (optional)
DIRECTIONS:
Mix together the milk, cream, sugar, vanilla extract and salt.
Stir until sugar is dissolved.
Add the crushed NESTLÉ Fun Size Candy Bars and nuts (if desired.)
Pour mixture into smaller coffee can and snap on the lid.
Secure the lid with duct tape.
Set the small can inside the large can and pack with crushed ice.
Sprinkle rock salt over the crushed ice and put on the lid.
Take your Roly-Poly Ice Cream maker to the driveway, sidewalk or other flat area that won't be hurt by a little leaking salt water.
Have two children sit several feet away from each other and let them roll the can back and forth to each other.
After they have rolled the can for 15 minutes, open the lid of the large can and drain any water. Open the smaller can and stir the thickening ice cream. Replace the lid and add more crushed ice and rock salt.
Continue to roll the can for 10 more minutes or until the ice cream is thick.
Courtesy of Nestle USA
Frozen Strawberry Hot Chocolate
1 cup hot whole milk
1 cup hot Original NESTLÉ COFFEE-MATE Half & Half
1/4 cup (2 envelopes) Rich Chocolate Flavor NESTLÉ Hot Cocoa Mix
2 tablespoons Strawberry Flavor NESTLÉ NESQUIK Calcium Fortified Syrup
Combine milk, Half & Half, cocoa mix and Nesquik in medium bowl; divide mixture among 2 ice cube trays. Cover with foil; freeze for at least 4 hours or up to 1 week.
Place cocoa cubes in food processor or blender; cover. Using on and off turns, process mixture until smooth, scraping sides often. If mixture is too thick to process, add a small amount of whole milk or Half & Half. Serve immediately.
Courtesy of Nestle USA